WEEKLY RATE INFORMATION
Market Index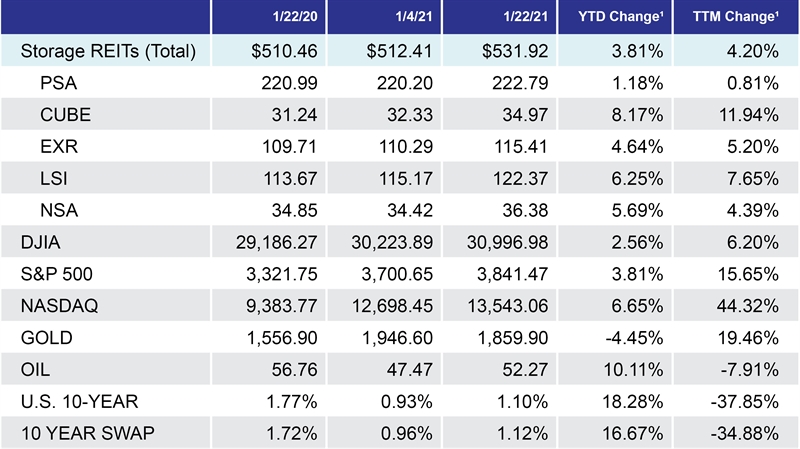 ¹ Excludes dividends
Sources: Yahoo! Finance, U.S. Dept of the Treasury, U.S. EIA, Barchart (SWAADY10.RT), Bloomberg, World Gold Council
¹ Excludes dividends
Sources: Yahoo! Finance, U.S. Dept of the Treasury, U.S. EIA, Barchart (SWAADY10.RT), Bloomberg, World Gold Council
Biden's authority is on the line already in first full week of presidency

(CNN) - As his first full week in the White House begins, Joe Biden already faces critical early tests of a presidency premised on political compromise and uniting Washington to fight the pandemic.

The President's team Sunday appealed for two things that may ultimately be elusive: time to stand up an aggressive attempt to finally turn around the Covid-19 nightmare and Republican buy-in for his $1.9 trillion economic relief plan.
Tech Leads U.S. Stock Advance; Bond Yields Slump: Markets Wrap

Tech shares led gains in U.S. equities while European stocks dipped as investors weighed tougher lockdowns to control the pandemic.

The Nasdaq 100 Index added about 1%, topping the Russell 2000 Index of small-cap shares that tend to benefit when investors are betting on a reopening. The S&P 500 Index traded slightly higher.
Oil prices steady as lockdowns curb U.S. stimulus optimism

LONDON - Oil prices were steady on Monday as support from U.S. stimulus plans and jitters about supplies competed with worries about the impact on demand from renewed coronavirus lockdowns.

Brent crude futures for March fell 8 cents, or 0.1%, to $55.33 a barrel by 1336 GMT. U.S. West Texas Intermediate crude for March was down 7 cents, or 0.1%, at $52.20.
1700 Post Oak Blvd, 2 BLVD Place, Suite 250
Houston, TX 77056
t 713-626-8888
Unsubscribe
1700 Post Oak Blvd, 2 BLVD Place Suite 250, Houston, TX 77056 t 713-626-8888
All information contained in this publication is derived from sources that are deemed to be reliable. However, Newmark has not verified any such information, and the same constitutes the statements and representations only of the source thereof, and not of Newmark. Any recipient of this publication should independently verify such information and all other information that may be material to any decision that recipient may make in response to this publication, and should consult with professionals of the recipient's choice with regard to all aspects of that decision, including its legal, financial, and tax aspects and implications. Any recipient of this publication may not, without the prior written approval of Newmark, distribute, disseminate, publish, transmit, copy, broadcast, upload, download, or in any other way reproduce this publication or any of the information it contains. This document is intended for informational purposes only and none of the content is intended to advise or otherwise recommend a specific strategy. It is not to be relied upon in any way to predict market movement, investment in securities, transactions, investment strategies or any other matter.


©2021 Newmark. All Rights Reserved.