WEEKLY RATE INFORMATION
Market Index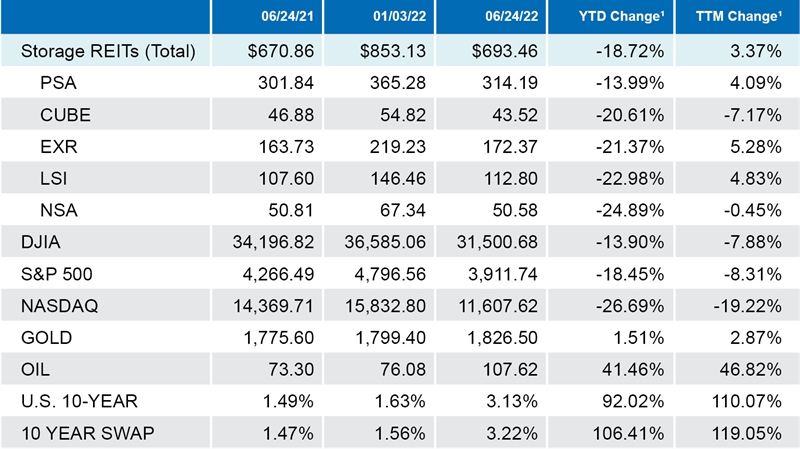 ¹ Excludes dividends
Sources: Yahoo! Finance, U.S. Dept of the Treasury, U.S. EIA, Barchart (SWAADY10.RT), Bloomberg, World Gold Council

¹ Excludes dividends
Sources: Yahoo! Finance, U.S. Dept of the Treasury, U.S. EIA, Barchart (SWAADY10.RT), Bloomberg, World Gold Council
Stocks Decline While Treasury Yields Climb: Markets Wrap

Stocks fell amid quarterly portfolio rebalancing by institutional investors, with traders assessing whether inflation is cresting and recession can be averted.

Treasuries slipped, pushing the rate on the US 10-year note to 3.2%. Yields have retreated from June highs on growth worries, but whether that marks the end of the Treasury bear market is a live debate. The dollar fluctuated.
Roe v Wade: US firms pledge to pay staff travel expenses for abortions

Major companies including Disney, JP Morgan and Facebook owner Meta have told staff they will cover employee travel expenses for abortions, as millions of US women face restricted access.

It follows a landmark ruling by the US Supreme Court that overturned the constitutional right to abortion.

The judgement paves the way for individual states to ban the procedure.
Biden signs gun safety bill into law, takes swipe at Supreme Court

WASHINGTON, June 25 - U.S. President Joe Biden on Saturday signed into law the first major federal gun reform in three decades, days after a decision he condemned by the Supreme Court expanding firearm owners' rights.

"God willing, it's going to save a lot of lives," Biden said at the White House after signing the bill with his wife Jill by his side.

The bipartisan bill came together just weeks after mass shootings in Uvalde and Buffalo that killed more than 30 people, including 19 children at an elementary school.
1700 Post Oak Blvd, 2 BLVD Place Suite 250
Houston, TX 77056
t 713-626-8888
Unsubscribe
1700 Post Oak Blvd, 2 BLVD Place Suite 250, Houston, TX 77056 t 713-626-8888
All information contained in this publication is derived from sources that are deemed to be reliable. However, Newmark has not verified any such information, and the same constitutes the statements and representations only of the source thereof, and not of Newmark. Any recipient of this publication should independently verify such information and all other information that may be material to any decision that recipient may make in response to this publication, and should consult with professionals of the recipient's choice with regard to all aspects of that decision, including its legal, financial, and tax aspects and implications. Any recipient of this publication may not, without the prior written approval of Newmark, distribute, disseminate, publish, transmit, copy, broadcast, upload, download, or in any other way reproduce this publication or any of the information it contains. This document is intended for informational purposes only and none of the content is intended to advise or otherwise recommend a specific strategy. It is not to be relied upon in any way to predict market movement, investment in securities, transactions, investment strategies or any other matter.


©2022 Newmark. All Rights Reserved.