WEEKLY RATE INFORMATION
Market Index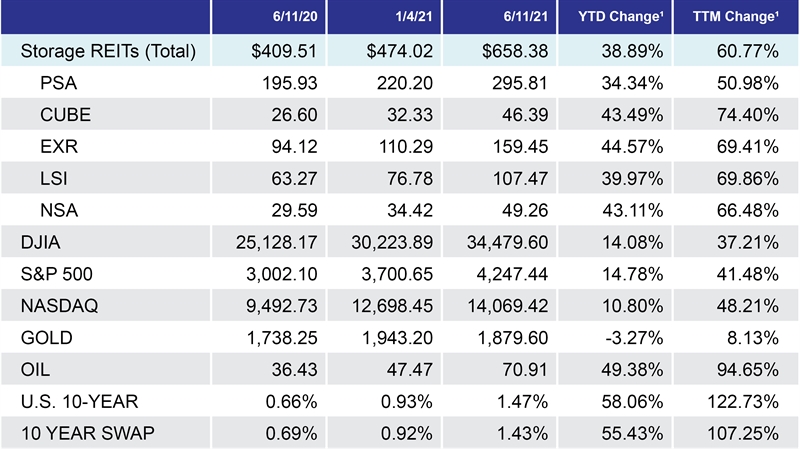 ¹ Excludes dividends
Sources: Yahoo! Finance, U.S. Dept of the Treasury, U.S. EIA, Barchart (SWAADY10.RT), Bloomberg, World Gold Council

¹ Excludes dividends
Sources: Yahoo! Finance, U.S. Dept of the Treasury, U.S. EIA, Barchart (SWAADY10.RT), Bloomberg, World Gold Council
U.S. Stocks Fall; Bonds Pause Rally as Fed Eyed: Markets Wrap

U.S. stocks dropped from record highs and the rally in bond markets lost steam as investors prepared for a key Federal Reserve meeting later in the week.

The materials, consumer staples and financials sectors weighed on the S&P 500, which closed at a record Friday. The Treasury 10-year yield rose to 1.48% after hitting three-month lows on Thursday amid the biggest weekly slide since December.
New Israeli government faces tension with Palestinians over Jerusalem

Veteran leader Benjamin Netanyahu handed over power in Israel on Monday to new Prime Minister Naftali Bennett but remained defiant as the patchwork government faced tensions with Palestinians over a planned Jewish nationalist march.

Minutes after meeting Bennett, Netanyahu repeated a pledge to topple the new government approved on Sunday by a 60-59 vote in parliament.
Nato summit: Nato must face up to China's rise, alliance chief says

The head of Nato has urged members to respond to China's rise at a summit designed to shore up US support for the Western alliance.

The summit is expected to issue a statement describing China's behaviour as a "systemic challenge" after the meeting in Belgium.

Secretary-General Jens Stoltenberg said the meeting was a "pivotal moment" for the alliance.
1700 Post Oak Blvd, 2 BLVD Place Suite 250
Houston, TX 77056
t 713-626-8888
Unsubscribe
1700 Post Oak Blvd, 2 BLVD Place Suite 250, Houston, TX 77056 t 713-626-8888
All information contained in this publication is derived from sources that are deemed to be reliable. However, Newmark has not verified any such information, and the same constitutes the statements and representations only of the source thereof, and not of Newmark. Any recipient of this publication should independently verify such information and all other information that may be material to any decision that recipient may make in response to this publication, and should consult with professionals of the recipient's choice with regard to all aspects of that decision, including its legal, financial, and tax aspects and implications. Any recipient of this publication may not, without the prior written approval of Newmark, distribute, disseminate, publish, transmit, copy, broadcast, upload, download, or in any other way reproduce this publication or any of the information it contains. This document is intended for informational purposes only and none of the content is intended to advise or otherwise recommend a specific strategy. It is not to be relied upon in any way to predict market movement, investment in securities, transactions, investment strategies or any other matter.


©2021 Newmark. All Rights Reserved.